Internship (LAW323) is an elective course offered in conjunction with legal and commercial firms. The course emphasizes learning through working in the real-world environment. It provides hands-on working experience guided by an Academic Supervisor from the department and an Intern Master who is an experienced practitioner in the relevant field. The course combines study with engagement in the daily operations of a legal or commercial workplace where students will experience the application of legal and business knowledge in a real work environment.
You may also click on the below link:
https://www.youtube.com/watch?v=n-V3TGluWwM&list=PLEFRO_10p2QUSYCTrMcmZPLgJBHelsHfT&index=3
Course Structure
Students will be placed into a law firm or a commercial company for a designated period during the winter or summer semester. Before the internship, students will participate in pre-internship training workshops and briefings. Students will join sharing and review sessions during the course of the internship guided by the Academic Supervisor. After completion of the internship, students are required to prepare a report on their experience as part of the course work.
HKYCOA Outstanding Internship Performance Award 2020-21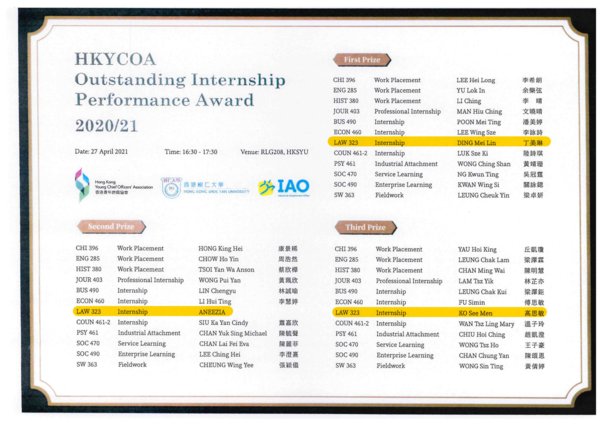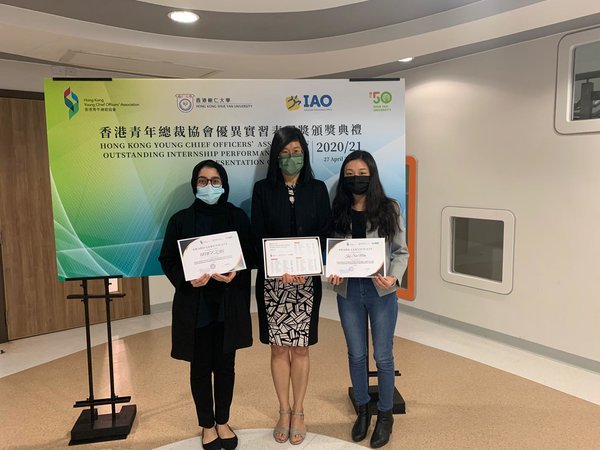 Acknowledgment
We are fortunate to have had the support of the following in making the internship course a success in the past:
Chambers of Ronny Wong SC
Chambers of Simon S.Y. So
Francis Kong & Co Solicitors
Hong Kong General Chamber of Social Enterprises Ltd
Hong Kong Zhong Shan Youth Association
Joint Mediation Helpline Office (JMHO)
Kwok, Ng & Chan Solicitors & Notaries
Mazars Corporate Recovery & Forensic Services Ltd
Reanda EFA Secretarial Limited
So, Lung and Associates Solicitors
(in alphabetical order)