Overseas Study Trips
The Department will arrange study trips for senior year students. Students will attend lectures held by legal experts from that city, and visits to judicial facilities, universities and other institutions are also arranged. Students will better understand the difference in the legal system and process, and more importantly, getting to know professors and friends and stay
connected in the legal profession.

Exchange Programme
Students may also experience studying in an overseas university on exchange programmes to enrich their university life. They can either apply one through the International Office (https://www.hksyu.edu/iu/), and through the Department. Students has studied in Beijing Normal University and the China University of Political Science and Law.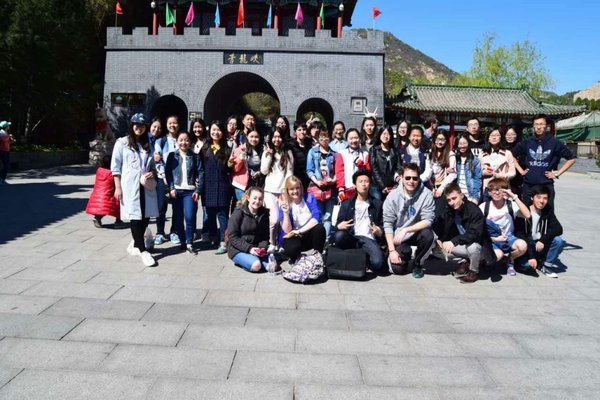 - China University of Political Science and Law (CUPL)
Sharing of Exchange Experience in China University of Political Science and Law
Chan Ka Foon, Alvis
Half a year of exchange life passed in the blink of an eye. Recalling the past exchanges of the Chinese University of Political Science and Law - the first exchange of life, my mood becomes complicated. I remember the moments from the beginning of the departure, my expectation, nervousness, and worry, failure of adapt to the new life in Beijing in the beginning, slowly adapting and getting to like that city, until the last reluctance, attachment; from the initial feeling that the half a year was very long until finally I loved to stay t. It seems to be in the blink of an eye.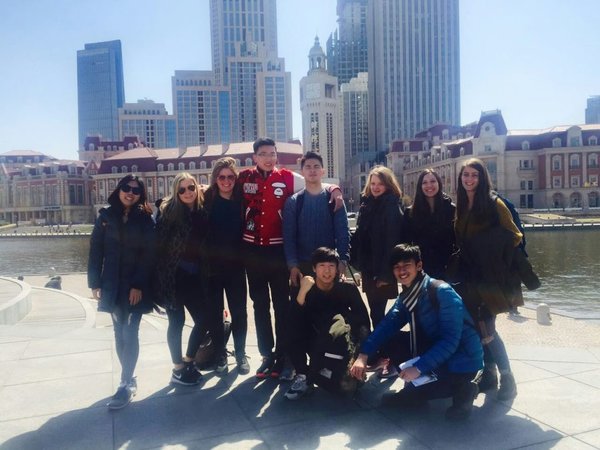 More sharing...
Reasons for choosing Beijing
I had been to Beijing once only before this exchange, and that was the main reason for pushing me going to Beijing.
That was an event that went to the CUPL organized by our Department of Law and Business. At that time, I was not very enthusiastic about the short-term exchange activities that I had with a few of my classmates. I didn't seem to notice too much about the details of this exchange. Later, some classmates suggested a group of us together joining the exchange activity. I thought about it. In fact, I have never tried to participate in any communication activities before. So, I said yes, even though I was considering that as a travel tour, not an academic one, at that moment.
After arriving in Beijing, the first feeling is that Beijing is very different from Hong Kong, and the most obvious difference is the rhythm of people's life and the sense of space in the place. The people on the road seemed to be very relaxed and relaxed. Some of them sat quietly reading a book by the river; some chatted easily with the three confidants on the street; some sat in the cafe and slowly enjoyed their coffee. I suddenly became very relaxed all the time, as if I was temporarily out of the cramps and irritations of Hong Kong.
The school life there was comfortable. Absolutely Beijing is bigger than Hong Kong in city size, and therefore the campus is relatively large. I remember that I had free time one night. I had a slow walk in the CUPL campus with my friends. I remember that it was just the season, breeze blowing, and I felt very comfortable. We walked slowly on different floors and visited to a study room, at around 9 to 10 pm. I guessed there should be no more people studying at night, so I wondered why the lights were still on. However, I was wrong. There were probably more than a hundred seats in it, and half of them were full. My friends and I were all surprised, while I also learned about my own shortcomings. That had also made me more interested in Beijing. I really want to continue to explore the difference between Beijing and Hong Kong. It is a pity that this exchange lasted only for a short week, just like walking around. Many things were too late for me to explore. After that, I told myself that if there is any other exchange activities in Beijing in the future, I will definitely participate. Therefore, when I knew that the school had a joint exchange with the CUPL, I immediately signed up after discussing with my family.
In addition, I am also very interested in the laws of mainland China and would like to know more about the differences between Chinese law and Hong Kong law. Therefore, among the many choices, I decided to put the CUPL, a doubtlessly famous university in Chinese law, in the first ranking of the options. I am very glad that I can be selected at the end.
An unforgettable experience in Beijing
The most memorable experience in Beijing is that I met a group of friends there. We studied together and traveled to different places together. That was the first time that we had the opportunity to interact with exchange students from different regions. We have learned about the cultures and habits of different places. What we have learned and learned is beyond the textbooks. In addition, in that exchange, we also took advantage of the free time outside the classroom to go to different places in Beijing, even to the nearby cities to see, for example, Forbidden City, Summer Palace, Great Wall, 789 Art District, Beihai Park and so on, and other cities like Tianjin, Xi'an, Qingdao, and Jinan.
Students there were friendly and helpful. As an exchange student, I felt quite uncomfortable to the University. At the beginning of the class, being unfamiliar with the local learning model often made me confused in the classroom. The students there were attentive when they were in class. When I faced problems and thought if I had to ask my classmates, I was afraid that they would feel distracted and they might be unhappy to me. But once, I was really overwhelmed. I took the courage to ask the students next to me. I did not expect that he was so happy to help me, lending me his handouts and notes after the class, asking me to jot down the contents of the notes and return them to him in the following week. In fact, not only that classmate, but also many other students were very happy to help me, giving guidance on my homework and tell me how to deal with the exam.
That half year of exchange was one of the most memorable things in my college life, and it brought me a variety of experiences. In addition, I gained a lot from that exchange trip indeed. On the night I left Beijing, I had an unforgettable dinner time with a few classmates and roommates. We enjoyed the happy moments that night while we understood that starting from the next day, no one knows when we could meet each other again. I answered them. I will come back again, definitely.
<Original Paragraphs in Chinese>
中國政法大學交流感想:
半年的交流生活在轉眼間就過去了,回想起當初戰戰兢兢的過去中國政法大學交流--人生第一次的交流,心情是多麼複雜。由當初出發時候的期盼、緊張、擔心, 到了北京的不習慣,慢慢適應及變為喜歡, 直到最後的依依不捨,眷戀;由最初覺得半年很長直到最後覺得時間太短想繼續留下去。這都彷彿都在一眨眼之間。
來北京的原因:
在此交流之前我只去過北京一次,而那一次卻正正是推動我来北京的主要原因。
那次是屬於我們法律與商業學系舉辦的一個去北京政法大學的活動。當時我和幾個身邊幾個同學在本系發佈此短期交流活動的時候其實並不太踴躍,大家亦似乎沒有太注意到此項交流活動的詳情。相隔一段日子,突然由身邊的同學提出不如我們一起報這項活動,我想了想其實都好啊,反正我之前都沒試過參與過任何的交流活動, 儘管我那時候是抱著一種旅遊的心態。
到了北京後,第一個感覺是北京跟香港很不同,而最明顯的分別就是人們生活的節奏及地方的空間感。路上的人彷彿都很放鬆,很悠閒,有些在河邊一個人坐著靜靜的看書;有些在街上與三五知己輕輕鬆鬆的聊天;有些坐在咖啡廳慢慢地享受自己的咖啡。頓時間我整個人都變得很輕鬆,彷彿暫時脫離了香港的侷促與煩囂。
校院裡的生活很愜意,舒適。北京比香港大,校園亦因此相對比較大。記得有一天晚上有自由時間,我和朋友一起慢慢的走到政法大學,感受一下晚上的校園生活。記得那時候剛剛轉季,吹著微風,非常舒服。我們在不同的樓層慢慢走著,走到了一個自習室,那時候已經是差不多九點多十點。我想,那麼晚應該不會還有人在自習吧,為甚麼燈還在亮。 然而我錯了,裏面大概有百多個座位,一半都是滿的。我和朋友都很驚訝,但同時亦了解到自己的不足。這亦令我對北京更加感興趣了,我很想繼續去發掘北京與香港的不同。可惜的是,這此交流只有短短的一個星期, 就像走馬看花,很多東西還來不及就要走了。之後我跟自己說,如果將來再有去北京的交流活動,我一定會參加。因此,當我知道學校有與北京政法大學合辦的交流活動後,跟家人商量後就馬上報名了。
此外,我亦對中國大陸的法律很感興趣,想了解更多有關中國法律與香港法律的不同。所以,在眾多的選擇中,我決定把在中國大陸法律非常有名的學府-中國政法大學放在選項中第一個排名。很慶幸最後可以被挑選到。
在北京交流難忘的經歷:
在北京最難忘的經歷是遇到了一群一起交流的朋友,我們一起學習,一起去不同的地方旅行。這是第一次有機會與來自不同國家的交流生一起交流,當中了解到不同地方的文化及習慣,所接觸到及學到的,是超越課本上所看到的。此外,在這次的交流中,我們亦有趁著課堂以外的空閒時間到北京不同的地方,甚至是附近的城市去看看。比如有:故宮、頤和園、萬里長城、789藝術區、北海公園等等。此外,亦有去其他的城市,比如天津、西安、青島、濟南……。
在課堂上,同學們也很友善,樂於助人。作為一個交流生剛剛去到北京,我對政法大學頗為陌生。而在剛開課時,對與當地的學習模式不熟悉往往令到我在課堂上很迷茫。一般來說,同學們在上課的時候都非常專心,當我遇到問題想問問身旁的同學的時候,都怕會影響到他們以及他們會不高興。但有一次,我真的是太不知所措了,我鼓起勇氣問旁邊的同學。想不到他很樂意的幫助我,甚至在課堂完結之後把自己的筆記借給我,叫我把筆記的內容記下後下星期才還給他。另外,亦有其他同學知到我是交流生後,亦很樂意去幫助我,在功課上做出指導以及告訴我怎樣去應對考試。
交換的這半年是我大學生活最難忘的事情之一,也擁有許多不同的體驗。此外,這趟旅行對我來說收穫和成長的確很多。到走的那一晚我跟幾個在法大同班的同學和室友們一起吃飯,那頓送別夜宵的氣氛很開心卻又很沉重,同學說,明日一別,不知何時再見,我回答他們說,我一定會再回來的。
- Beijing Normal University (BNU)
Sharing of Exchange Experience in Beijing Normal University
Mo Hoe Yiu, Horace
Personal feelings
The time of one semester passed fast, and there were really many good times to remember. I was very happy to meet people from different countries. Classmates from the Mainland shared with me much their learning culture. Taiwanese classmates traveled and talk with me about politics, exchanged views on Chinese politics while we were having barbecues. I drank with Koreans and we talked about their future. I had meals with Americans and we discussed about the goods and bads of studying in Beijing. There are too many memories to elaborate here, so I'd like to conclude that the BNU exchange was really a valuable experience. It did not only widen my horizon, but also it brought me many new friends from different countries and even strengthened my value towards life.
In addition, I felt very honored that I could visit Beijing Xicheng District People's Court and get to understand the judicial system and legal procedures in the Mainland. Attending courts and seeing how judges and court clerks work gave me a better understanding of the entire proceedings and was of great help in studying civil procedure law.
<Original Paragraphs in Chinese>
北京師範大學交流感想
一個學期的時間很快就過去了,實在有很多美好的時光可以回憶。我很高興可以認識到來自不同國家的人,進行不同的交流。和內地的同學上課,更加認識他們的學習文化;和台灣人一起旅行,談政治,一邊吃燒烤一邊交流對中國政治情況的看法;和韓國人喝酒,一起談談對自己未來的計畫;和美國人吃飯,說說在北京讀書的好與壞。回憶實在太多而不能細說,但我要說的是這一次的交流真是一次寶貴的經驗,不但能開拓自己的視野,更能交到來自不同國家的朋友,把自己的人生價值觀提升到更高的一個層次。
另外,我很有幸可以到北京市西城區人民法院參觀,並瞭解內地的司法制度和訴訟程序。在法院裏旁聽案件和觀看法官和書記員的工作使我更瞭解整個訴訟程序,對學習民事訴訟法學有很大的幫助。
More sharing ...
Preparation for departure
Beijing was particularly cold in February. I brought a lot of warm clothing and various medicines in case I needed them. My luggage mainly contained winter clothes and daily necessities. Because online shopping is very convenient and affordable in the Mainland, most of my summer clothes were purchased locally.
Arrival in Beijing
If students have the need to pick up the plane, they can apply in advance to the

Beijing Normal University Law School

or the

Hong Kong and Macau Affairs Office of the State Council

. They will arrange for students to pick up at Beijing Capital International Airport. If the students want to go to BNU on their own, the cheapest way is to take bus to Jishuitan at the airport, by about 20 yuan. Secondly, take the subway to Jishuitan Station or Peony Garden Station. Both routes cost 29 yuan, while considering the number of bags and the need for special trips, students are recommended to take bus to Jishuitan; and students can also take a taxi to BNU. The fare is about 100 yuan.
Classes
Most of the courses at Beijing Normal University are taught in Mandarin, and the textbooks are mainly in simplified Chinese. Some courses are, on the other hand, taught in English or bilingual, and students can choose which they prefer. In general courses are assessed by mid-term assignments and final exams. The teaching materials for the class are mainly prepared on PowerPoint. Whether the professors would give the class materials to the students varies from person to person, but it is recommended that students can obtain the public mailbox from classmates, because the professors usually upload the PowerPoint to the public mailbox. Or else students may directly ask the professors to obtain PowerPoint files. For printing, students should bring their own USB drives to the 2/F of the hostel building, the library or the printing shop at Ximen. It is generally recommended that students go to the library or the printing shop at Ximen, because it would be cheaper. The printer on the hostel 2/F is recommended for use only when the library and the Ximen printing shop is closed.
After arriving at BNU, I suggest that students apply for a bank account at a bank near the school to facilitate remittance and payment. The more recommended banks are Bank of China (BOC) and Industrial and Commercial Bank of China (ICBC). The former bank runs a branch opposite to the school hostel for exchange students. It is more convenient for students to go there in person and handle banking affairs; the latter one has more branches and ATMs outside the campus.
Most of the daily necessities are purchased at supermarkets in Beitaipingzhuang or Jishuitan. Students can also go to the staff supermarket in the North District of the University and the student supermarket in the West District.
Food provided by the University canteen would not be easily adapted at the very beginning, because the food in the Mainland is generally more flavored than in Hong Kong. There are different kinds of canteens for you to choose. If you cook, you could buy rice and vegetables in the staff supermarket.
Exchange students from Hong Kong, Macao and Taiwan would be arranged to live together in an apartment near Dongmen. The accommodation fee for a semester is about 6,000 yuan. The dormitory is a two-person room, each unit has a separate washroom. If you want to try the unique bathing life of Northern schools, you may try so at the public bathhouse.
BNU Exchange Student Programme is a student organization composed of Hong Kong people and Taiwanese at Beijing Normal University. It can enhance communication among mainlanders, Hong Kong people and Taiwanese who are studying at BNU. They organize many activities such as spring tourism and student sharing sessions. Another student organization I would like to recommend is the Small Language Society, which is composed of students from the Law School. Students can learn different foreign languages there. I chose to learn German. Although I didn't learn much German in this short semester, I think it is very interesting to learn German on this language-filled campus.
The traffic in Beijing is very convenient. There are many routes at the bus stop outside the four main gates of the University, and it takes about 10 minutes for the subway Jishuitan Station and Mudanyuan Station to walk from the East Gate.
<Original Paragraphs in Chinese>
北京師範大學交流感想
北
京在二月的時候天氣特別寒冷,建議同學多帶御寒衣物和各類藥品,以便不時之需。行李擺放的東西主要以冬季的衣服以及日常生活用品為主,因為網購在內地十分方便和實惠,故自己大部份的夏季衣服都在當地購買。
如果同學有接機的需要,可以提前向北京師範大學法學院或者港澳臺辦公室會申請,他們將會安排同學在北京首都國際機場接機。如同學想自行到北京師範大學,最便宜的方法是於機場乘搭前往積水潭的專線巴士,大約二十幾塊人民幣;其次是乘搭地鐵到積水潭站或是牡丹園站,兩個站都是二十九塊人民幣,但考慮到行李數量和專程的需要,故建議同學乘搭前往積水潭的專線巴士;還有同學也可以打車到北師大,一般車費大約是一百塊人民幣左右。
北師大大部分的課程都用普通話教授,教材亦以簡體字為主。但是有些課程則是以英文或者雙語授課,同學可按照自己喜好自行選擇。一般的課程都以期中作業和終期考試作評核。上課的教材主要以PowerPoint為主,教授會否給同學上課教材則因人而異,但是建議同學可以先向班上其他同學拿公共郵箱,因為教授一般會把PowerPoint上載到公共郵箱去,或者直接問教授拿 PowerPoint也可以。打印方面,同學要自備 USB 到宿舍二樓、圖書館或者是西門的打印店去,一般建議同學到圖書館或者是西門的打印店,因為比較便宜,宿舍二樓的打印機建議是在圖書館和西門打印店關門時才使用
。
一開始到達北師大後,建議同學先到學校附近的銀行申請一個銀行戶口,方便匯款、領錢。比較推薦的銀行是中國銀行和工商銀行,前者在學校交流生的宿舍對面有一間分行,比較方便同學親自到銀行處理事務;後者則在校外有比較多的分行和提款機。
生活用品大部分都是到北太平莊或者積水潭的物美超級市場購買,同學亦可到校內北區的教工超市和西區的學子超市。
初來時在校內飯堂用餐不一定適應,因為內地的食物普遍比香港重口味。學校裡有教工食堂、學五食堂、清真食堂、新樂群食堂。如果想要自己煮飯,教工超市也有米和菜可以買。
港澳台交換生會安排住在東門附近的新松公寓。一個學期的住宿費為六千元左右人民幣。宿舍為兩人一房,每個單位均有獨立的洗手間。如果同學想嘗試北方學校獨有的洗澡生活,可到公共澡堂體驗一番。
兩岸青協是香港人和台灣人在北師大組成的一個學生組織,可以與在北師大讀的內地人、香港人和台灣人交流,平時也會有春季旅遊和學生分享會等活動參加。另外一個學生組織本人推介的是小語種學會,由法學院瀚德的學生組成,可以學習不同的外國言語。而我則選擇了學習德語,在這短短的學期裏雖然我所學的德語並不多,但我覺得在這個充滿語言氛圍的校園裏學習德語是十分有意思的。
北京的交通很方便,北京師範大學四個學校門口外的公交車站有許多路線,而地鐵積水潭站和牡丹園站從東門步行過去大約也只要十分鐘左右。